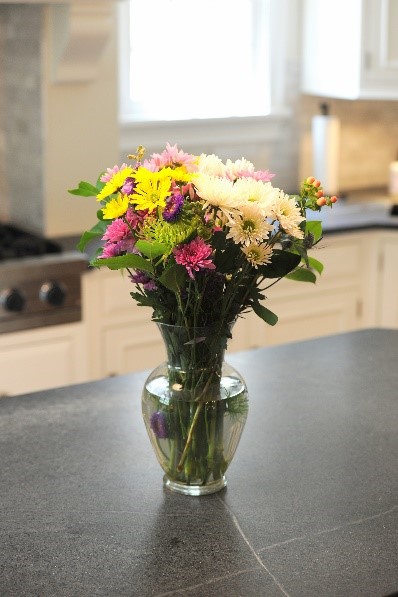 Now that you have sold your home and closing is getting near, are you considering leaving a gift for the buyer of your home? By no means is this a requirement or even expected but it certainly is a kind gesture if you choose to do so. Since your property will be closed by the time the buyer receives your gift, there is no ulterior motive to this but just a chance to show your love of your home to its new owner.
Whether you have lived in your home for five years or 25 years, you may be feeling nostalgic as you spend your last days there. What better way to say good bye to your home then by leaving a gift to welcome its new owner. This doesn't need to be an extravagant gift or anything in particular. If you want to do something and aren't sure what to do, here are some things to consider.
A vase of flowers is always a nice touch. Leave them on the kitchen counter where they can't be missed.

A basket of necessities as they get settled in the home. Include a roll of toilet paper, a roll of paper towels, trash bags, soap, Clorox wipes, a few bottles of water, a snack like granola bars or fruit and even a bottle of champagne. Include any extra items you had on hand for the home such as light bulbs and air filters.

A gift certificate to your favorite local restaurant. After a full day of moving, they will love relaxing for dinner somewhere nearby.
Beyond the gift you leave, the best thing you can do would be to leave a note to go along with the gift. In the note, welcome them to the home and tell them you hope it is a special place for them like it was for you. If you have children that have lived in the home (even if they are older now) and they have children, ask your child to right a note and share something special like the best tree for climbing or a shortcut to the park or neighbor's house. These personal gestures can really make a big impact.
Along with your gift and note, add a list of your favorite home professionals that helped you take care of the home such as a handyman or landscaper, the names and numbers for the closest neighbors and a list of your favorite local restaurants, shops and professionals.
None of this is necessary but as a way to introduce your home to its new owners, I am sure it will be appreciated. It truly isn't about the price of the gift but the thoughtfulness behind it.
Christine Topham


RE/MAX Unlimited
Doing More from For Sale to SOLD! That's the sign of

a RE

/MAX agent!
Let's Connect, Socially!
Image courtesy of Jim_Larrison/flickr.com