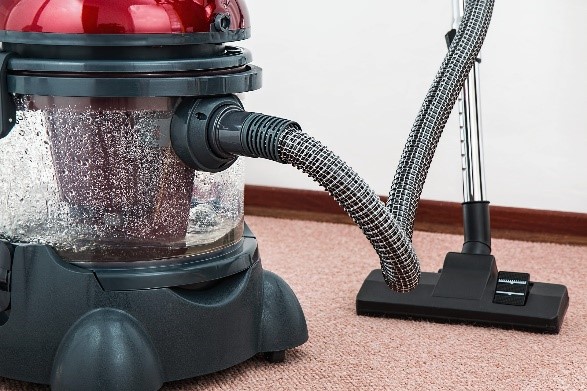 Carpet is one of the areas of your home that requires the most maintenance and probably shows wear faster than any other part of your home. For that reason, many people choose to use other floorings in their home in some rooms that holds up better to wear and tear. Even if you choose other flooring options for high traffic areas of your area, nothing beats the comfort of carpet in your bedrooms.
If you do choose to have carpet in your home, there are some steps you can take to keep it looking great and help it last longer. Start by being careful to wipe your shoes when you come inside. Adding rugs at your entry doors can help with this. Some people choose not to wear shoes in their home and even if you aren't willing to go that far, carefully wiping your feet every time you come inside will make a big difference. Even when you can't see dirt on your shoes, it is there and will come off on your carpet.
Regular carpet care will help it look nice for longer. Start with a thorough vacuuming at least once a week. If you have young children or pets, you should do more frequently. It is also necessary to clean spills immediately, and you should keep the carpet cleaner on hand for unexpected stains. On a regular basis, you should also have your carpets professionally cleaned or rent a carpet cleaning machine to assist with this task. Even if your carpets appear very clean, you will likely be shocked at the dirty water coming out of the machine if you choose to clean your carpets yourself. Doing this on an annual basis at a minimum or more often if you choose will help your carpet look nice and eliminate dirt and allergens from your home. Many home improvement and even grocery stores rent the carpet cleaners. You can search for a location near you here.
Everyone wants their carpets to look nice and be clean for their families but if you are thinking about selling your home, this is even more important. When buyers come to look at your home, they will notice immediately the condition your carpet is in and will comment on it. At a minimum, you should have your carpets cleaned before you list your home and if your carpet has reached the end of its life expectancy, having it replaced will make a huge impact.
Christine Topham


RE/MAX Unlimited
Doing More from For Sale to SOLD! That's the sign of

a RE

/MAX agent!
Let's Connect, Socially!
Image by Steve Buissinne from Pixabay